Jurassic World: Dominion Dominates Fandom Wikis - The Loop
Play Sound
For the 26-member idol group project established in 2014, see 3B junior (New Project)
3Bjunior[1][2][3][4] (also written as 3B Junior and 3-B jr.) was the rookie training department under the Stardust Promotion Entertainment Section 3 talent agency. Originally it was the company's section dedicated to train their female talents under 18 years of age, such as giving them acting lessons.[5] The talents were distributed into models, actresses and idols.[5] As of 2014, however, 3Bjunior was reorganized into an independent department that specializes only in idols.[2][6]
After the reorganization, the umbrella term Section 3 Idol is used to refer to all idol groups under Section 3.[7] Management also prefers to use the term 3B.[8][2] 3Bjunior is rebooted as a new 26-member idol training project and have started their activity since November 2014.[9]In 2017, Section 3 Idol renamed to Stardust Planet.
3Bjunior is supervised by Ryoji Fujishita, who also acts as the managing director of Stardust Promotion section 3, the founder of 3Bjunior and Shiritsu Ebisu Chugaku's chairman.[6] The oldest member Reni Takagi acted as their leader.[10][6][11]
The current 3Bjunior is listed under 3B junior (New Project) page to avoid confusion.
Group Notes
[
]
3Bjunior was the rookie training department of Stardust Promotion Section 3. The group was originally created to showcase the result of their everyday lessons as a rookie talent trainee in their annual live show.[2]
All of rookie models, idols and actresses of Stardust Section 3 under 18 years of age originally belonged to 3Bjunior.[2]
The group was founded by Stardust Section 3 Managing Director Ryoji Fujishita. The group was named as such because they're the children from section 3 (3部, San-Bu), hence 3Bjunior.[2][5]
3Bjunior had been officially reorganized in 3Bjunior LIVE FINAL: Ore no Fujii 2014 live concert in January 4, 2014, to construct a better idol department in which the idols are clearly separated from actress and model, since idol activities in section 3 was becoming more prominent.[6]
3Bjunior theme song is Nanairo no Stardust.[6]
History
[
]
2006-2007:Early 3-B
[
]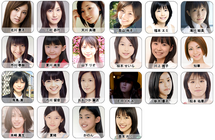 Stardust Promotion is known for their attempt to idol industry by forming ANGEL EYES in 1997.[12] ANGEL EYES starred in the children training and dance TV program titled Harajuku Launchers in 2000.[12][13] Several ANGEL EYES members have become renowned stars, such as Erika Sawajiri, Haruna Kojima, Megumi Sato, Rui Miyazaki, SHELLY, Marie and Erika Ura.[14] Ryoji Fujishita cited that ANGEL EYES is the pioneer of 3Bjunior.[13]
Another early Stardust Promotion idol group was Power Age, that had been established in March 2005 [15]. The group, however, was stationed under Stardust Promotion Entertainment Section 8.[16]
Section 3 started their junior talent activity lessons in around 2006. Their blog in Ameba, Sannen B-Gumi School Girl Blog, was launched on July 6, 2006.[17] Several talents who had been posted first entries of the blog about their activities including Rin Asuka, Rio Yamashita, Yuko Takayama and Runa Yumikawa. The earliest known 3Bjunior group activity was a small karaoke live on August 5, 2006 by Rin Asuka, Haruki Ichikawa, Yuki Takigawa, Rio Yamashita, and Asami Hijiri.[18] The show, which was titled 3-B jr. Mini Event was held in the street of Yoyogi Kouen[19]. Akira Kawakami and Yuichii Fujii, managers from Stardust Promotion Section 3, were sent out to oversee the street event.[20] The group held another 3-B Mini Event at the same place on December 28, 2006 and April 1, 2007 [21]
Stardust Promotion Section 3 held a junior talent recruitment titled "Stardust Entertainment Section 3 Rookie Discovery Audition". The auditions were held at six cities across Japan starting from Sapporo, Hokkaido on August 25, 2007.[22] Some of the new 3Bjunior talents were active in several individual activities, including movie shootings and CM auditions.[23]
In late 2007 the Stardust Section 3 website was updated with a new section exclusively for 3Bjunior. There were 32 members listed on the page, some of which were the future 3Bjunior idol group members, including Tsukina Takai, Reni Takagi, Momoko Kawakami and Hinaki Yano.[24]
2008-2010: Newcomer Training Programs Establishment
[
]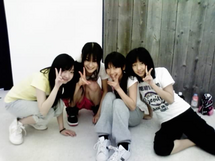 In March 2008, 3Bjunior announced the formation of two groups as their newcomer training program for Stardust Promotion would-be actresses: Momoiro Clover with Reni Takagi, Miyu Wagawa, Manami Ikura, Kanako Momota, Shiori Tamai and Tsukina Takai as the members, and Piecees[25]. that consisted of Narumi Uno, Shiori, Kanon, Hinaki Yano and Momona Natsukawa.[26]
Their first performance was held on May 17, 2008 at Kawasaki Azalea shopping mall in the Stardust Entertainment Section 3 Audition event. Reni was their leader during that time[27]. Rin Asuka and Yuko Takayama also participated as solo singers. May 17 also became established as the anniversary of today Momoiro Clover Z. On July 6, Momoiro Clover held their first street live event on Yoyogi Kouen[28]. The street live event series were meant to teach them the basics of public activities, such as handing out pamphlets and dance lessons, yet then gave an idea to the management to seriously work on their first idol group.[26]
3B-jr. announced their first live concert that was held on August 30, 2008 titled Natsu☆Suta! '08 ~STARDUST section three 3-B Jr. LIVE~ at Astro Hall, Tokyo. The show consisted of performances of 3Bjunior soloists, singing groups, skits, and Momoiro Clover, in a total of 29 members.[29]. Their first limited album, 3-B Jr. Petit Album was being sold in the concert venue in CD-R format.[30]. On December 29, 2008 3Bjunior held another live concert titled 3-B Jr. LIVE: Nenmatsu Da yo! Zenin Shugo in the same venue.[26] This event also marked their first annual year-end live concert and the graduation ceremony of Rin Asuka.[31] . The idol trio Creamy Parfait was also officially announced in this show. The trio consisted of Ikura Manami, Sumire Fujishiro and Naho Kasuga, both Ikura and Sumire were originally members of Momoiro Clover.[26]
2011-2012:Popularity and Development
[
]
2013-2014:Restructuring and Disbandment
[
]
Since the idol groups in Stardust Promotion section 3 had reached its popularity rating thanks to Momoiro Clover Z, the managing director Ryoji Fujishita began to think about creating an independent idol department.[6] There were several instances where the girls admitted that they actually wanted to be an actress, since the line between actresses and idols in section 3 was rather blurry.[6]
In November 2013, they unveiled the single Nanairo no Stardust, performed by the members of Momoiro Clover Z, Shiritsu Ebisu Chugaku, Team Syachihoko, Takoyaki Rainbow, KAGAJO☆4S, Team Daioh Ika and Junior Junior as the first step for this reformation. The single acted as the theme song for 3Bjunior and is claimed as their "first and last single". A compilation album was also announced along with the single, performed by the graduated 3Bjunior members (Momonaki, Creamy Parfait, Rin Asuka and others), the recent 3Bjunior groups (Takoyaki Rainbow and KAGAJO☆4S) and newly formed groups (Team Daioh Ika and Team Hotaru Ika) titled Sutada 3Bjunior Last Daizenshu.[6]
A live event in Green Dome Maebashi was also announced and would be held on January 4, 2014, titled 3Bjunior LIVE FINAL: Ore no Fujii 2014. This was their first live event held in a large venue and the concert DVD being largely available for public. All of the active 3Bjunior groups at that time performed here. The event also marked the disbandment of the rookie training department 3Bjunior and would be reorganized into idol training department 3Bjunior, starting from November 2014. In the end of the event, there's an announcement for the 2015 Fujii that will be held in seven days and will take place in Nihon Seinenkan, Tokyo.[32]
Members
[
]
Before its reorganization and the establishment of the new 26-member 3Bjunior, 3Bjunior consisted of four main groups: Momoiro Clover Z, Shiritsu Ebisu Chugaku, Team Syachihoko, Takoyaki Rainbow[33] and three additional groups KAGAJO 4S, Team Daioh Ika and Junior Junior, in a total of 54 members. Tho 54 girls have been featured in Nanairo no Stardust.[34]
Idol Group Members (before 2014 Reorganization)
[
]
Members
[
]
The members listed below are Idols, models and actress who was listed in Stardust Section 3's website in the 3Bjunior section, annual magazine-book 3Bjunior Book, School Girl BLOG and who had been took part in 3Bjunior activities, such as limited-time idol groups, annual live concerts and Tokyo Idol Festival events.
Joined before 2007
[
]
Joined in 2007
[
]
Name
Kanji
Talent
Group
Status
Website
Yuka Matsumoto
松本祐果
Model
-
Left in 2009
link
Reira Kurihara
(Yukie Crisp)
栗原レイラ
(クリスプ幸枝)
Model
-
Left in 2008
link
Mao Inami
(Mao Matsunami)
伊波麻央
(松波麻央)
Actress
-
Wasn't graduated, active
link

Seira Sakuragi

桜木せいら
Singer
-
Wasn't graduated, active
link
Reni Takagi
高木れに
Idol
Momoiro Clover Z
Graduated, active
link
Haruka Eto
江藤遥
Model
-
Wasn't graduated, active
link
Yuko Araki
新木優子
Actress
-
Wasn't graduated, active
link
Miyu Wagawa
和川未優
Idol, actress
Momoiro Clover
Hito Rikko


Creamytation

Left in 2011
link
Manami Ikura
伊倉愛美
Idol, model
Momoiro Clover
Creamy Parfait


Creamytation

Left in 2010
link
Yu Aoshima
青嶋優
Model
-
Left in 2010
link
Aoi Yoshikura
(Aoi Yoshihara)
吉原あおい
(吉原あおい)
Model
-
Wasn't Graduated, active
link
Ozeki Kiharu
尾関きはる
Idol
SKE48
Left in 2008
link
Tsukina Takai
高井つき奈
Idol
Momoiro Clover
SKE48


Creamytation


Creamytation Z
Left in 2008
Rejoined in 2010
Left in 2014
link
Shizune Nagao
長尾寧音
Model
-
Graduated, active
link
Aoi Gondo
権藤葵
Model
-
Left in 2012
link
Emi Fukumoto
福本エミ
Actress
3-B Mini Event group
Left in 2012
link
Riko Shinzaki
新崎莉子
Model
-
Left in 2010
link
Ryoka Aoi
蒼井涼香
Model
-
Active
link
Momoko Kawakami
川上桃子
Singer, Idol
Momonaki
Left in 2012
link
Hinaki Yano
矢野妃菜喜
Idol
Piecees
Hito Rikko
Shiritsu Ebisu Chugaku
Left in 2012
link
Sara Saito
斉藤沙良
Actress
-
Left in 2014
link

Yuka Yano

矢野優花
Stage Actress
Ito Wokashi
Active
link
Yukino
ゆきの
Actress
-
Left in 2013
link
Joined in 2008
[
]
Joined in 2009
[
]
Joined in 2010
[
]
members that left Stardust Promotion are identified by their deleted page on Stardust Section 3's website.
members that wasn't graduated means they had reached 18 but there's no graduation ceremonial for them (see below).
Graduation
[
]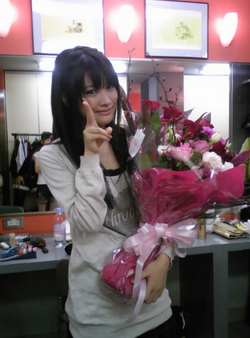 Unlike the term graduation (卒業, sotsugyou) in other idol group businesses, a graduation in 3Bjunior refers to a state when the member hit 18 or finished their high school on March. It more resembles a high school graduation ceremony rather than usual idol graduation. The graduated members still continue their assigned group or individual activities and is still considered as a part of Stardust Section 3. The graduation ceremony was held in their annual live concert. The graduation system is abolished as of 2014 reorganization.[35]
Graduated in 2009:
Graduated in 2010:
Arisa Kuwata

Airi Mitsuki
Graduated in 2011:
Yuko Takayama

Rio Yamashita
Graduated in 2012:
Graduated in 2013:
Graduated in 2014:
Nao Aoyama

Satomi Okubo

Shizune Nagao
Photobook
[
]
Since January 2010, the department have produced a series of annual magazine photobook (mook) in collaboration with Tokyo News. The publication covers several numbers of their talents, including actresses, models and idols in a single volume entitled 3Bjunior Book.
3Bjunior Book 2010 Winter
Cover
Featured Members
Information
Miori Takimoto, Arisa Kuwata, Airi Mitsuki, Rio Yamashita, Yuko Takayama, Mao Inami, Reni Takagi, Haruka Eto, Yuko Araki, Miyu Wagawa, Manami Ikura, Runa Yumikawa, Sumire Fujishiro, Kanako Momota, Mana Konno, Ayami Ishihara, Akari Hayami,

Wakana Hashimoto

, Tamai Shiori, Maria Tani, Natsuo, Junya Ikezawa, Hinata Kirishima, Shizune Nagao,

Aoi Gondo

, Emi Fukumoto, Kasuga Naho, Nana Komatsu, Riko Shinzaki, Ayaka Sasaki,

Ryoka Aoi

, Momoko Kawakami, Rika Mayama,

Nana Tanikawa

, Kanon, Mizuki, Hinaki Yano, Sara Saito, Natsu Anno, Yuzuki Oguro, Reina Miyazaki,

Yuka Yano

, Narumi Uno, Misaki Hoshii, Ayaka Yasumoto, Momona Natsukawa, Rie Tachibana, Makoto Shiraishi, Momoka Ariyasu
Tokyo News Mook Issue #172


Mook: 98 pages
Release date: December 17, 2009
Publisher: Tokyo News Service
ISBN-10: 4863360770
ISBN-13: 978-4863360778
3Bjunior Book 2010 Summer
Cover
Featured Members
Information
Actress: Rio Yamashita, Yuko Takayama, Kyoko Hinami, Anri Okamoto, Shiho, Miyu Wagawa, Karin Aiba, Natsuo
Tokyo News Mook Issue #191


Mook: 97 pages
Release date: July 31, 2010
Publisher: Tokyo News Service
ISBN-10: 4863361025
ISBN-13: 978-4863361027


Model: Wakita Keiko, Kelly Ann, Aoi Yoshikura, Yuzuki Hoshino, Nana Komatsu, Kanon, Mio Maeda, Risa Hosoya
Idol: Reni Takagi, Kanako Momota, Akari Hayami, Momoka Ariyasu, Shiori Tamai, Ayaka Sasaki, Rika Mayama, Mizuki, Hinaki Yano, Natsu Anno, Reina Miyazaki, Narumi Uno, Hirono Suzuki, Mirei Hoshina, Rio Koike, Sumire Fujishiro,

Wakana Hashimoto

, Mana Konno, Kasuga Naho,

Shizune Nagao

,

Ryoka Aoi

,

Ayumi Okazaki

,

Haori Takahashi
3Bjunior Book 2011 Summer
Cover
Featured Members
Information
Anri Okamoto, Karin Aiba, Akari Hayami, Kyoko Hinami, Aoi Yoshikura, Momoiro Clover Z, Shiritsu Ebisu Chugaku, Tsukina Takai, Ayumi Okazaki, Wakana Hashimoto, Natsuo, Nao Aoyama, Haori Takahashi, Mika Ayano, Sumire Fujishiro, momo, Rio Koike, Yuzuki Hoshino, Risa Hosoya, Nana Komatsu, Shizune Nagao, Yuzu Ando, Narumi Uno, Honoka Akimoto,

Yano Yuka

, Kanon,

Mayu Ogawa

, Chihiro Ogawa, Mai Nakamura, Makoto Shiraishi, Koharu Watatani, Nao Sakura, Fumi Takizawa,

Nana Tanikawa

, Asuka Yamagishi, Mayaka Yamanoi,

Satomi Okubo

Tokyo News Mook Issue #236


Mook: 97 pages
Release date: August 1, 2011
Publisher: Tokyo News Service
ISBN-10: 4863361572
ISBN-13: 978-4863361577
3Bjunior Book 2012 Winter
Cover
Featured Members
Information
Nao Aoyama, Honoka Akimoto, Himeka Asami, Yuzu Ando, Chiyuri Ito, Narumi Uno, Uran,

Satomi Okubo

, Yuzuki Oguro, Hino Ogasawara, Anri Okamoto, Shiori Odagiri, Kanon, Rio Koike, Sara Saito, Haruna Sakamoto, Nao Sakura, Tsukina Takai, Haori Takahashi, Momoko Tanabe,

Miki Tsutsumi

, Koharu Nakayo, Yu Nakamura, Natsuo, Towa Narasaki,

Wakana Hashimoto

, Shiho Hanayama, Akari Hayami, Sumire Fujishiro,

An Fujimoto

, Risa Hosoya, Alice Misaki,

Yuka Yano

, Miku Yokoyama, Aoi Yoshikura, Momoiro Clover Z, Shiritsu Ebisu Chugaku
Tokyo News Mook Issue #324


Mook: 97 pages
Release date: November 30, 2012
Publisher: Tokyo News Service
ISBN-10: 4863362757
ISBN-13: 978-4863362758
3Bjunior Book 2013 Summer ~School Life~
Cover
Featured Members
Information
small>

Ryoka Aoi

, Nao Aoyama, Himeka Asami, Ami Uchiyama, Narumi Uno, Uran,

Satomi Okubo

, Ayumi Okazaki, Azusa Okada, Riri Okamura, Mayu Ogawa, Reina Okusawa, Miku Kato, Shiori Odagiri, Kanami, Ai Kiyama, Hinata Kirishima, Mao Kunimitsu, Rio Koike, Kaho Kobayashi, Hana Komiyama, Karin Saito, Rena Shirakawa, Kanon Suzuki, Saya Daio, Tsukina Takai, Saki Takahashi, Haori Takahashi, Rie Tachibana, Momoko Tanabe, Nana Tanigawa, Maria Tani, Kanami Tsujino,

Runa Naito

, Shizune Nagao, Norika Nagashiro, Koharu Nakayo, Yu Nakamura, Riko Nakayama, Natsuo, Kanon Nanaki, Towa Narasaki, Mei Norimine, Shiho Hanayama, Mai Haruna, An Fujimoto, Miley, Alice Misaki, Mayu Motose,

Yuka Yano

, Mayaka Yamanoi, Hanano Yukishiro, Miku Yokoyama, Raimu, Rea, Momoiro Clover Z (Ayaka Sasaki and Shiori Tamai), Shiritsu Ebisu Chugaku, Team Syachihoko.
Tokyo News Mook Issue #368


Mook: 102 pages
Release date: July 30, 2013
Publisher: Tokyo News Service
ISBN-10: 4863363281
ISBN-13: 978-4863363281
3Bjunior Book 2014 Summer ~3Bjunior no Natsuyasumi~
Cover
Featured Members
Information
Nao Aoyama,

Rena Akatani

, Airi Sayanaga, Natsu Anno, Riko Ueda, Narumi Uno, Rurika Uno, Azusa Okada, Riri Okamura,

Shiori Odagiri

, Ai Kiyama, Rio Koike, Kanon Koide, Hitoka Sakai,

Arisa Sakura

, Anju Sakurai, Aika Sano, Ayaka Sameshima, Rena Shirakawa, Sakura Sugiura, Saya Daio, Rinka Takaoka, Saki Takahashi, Momoko Tanabe, Kanami Tsujino, Mako Nagasaka, Koharu Nakaya, Kanon, Mei Norimine, Kiina Haruno,

An Fujimoto

,

Miley

, Alice Misaki, Mizuki,

Meina

, Mayu Motose, Yuka Yano, Hanano Yukishiro, Miku Yokoyama, Raimu, Rea, Momoiro Clover Z (Ayaka Sasaki, Shiritsu Ebisu Chugaku, Team Syachihoko, Takoyaki Rainbow.
Tokyo News Mook Issue #436


Mook: 113 pages
Release date: July 30, 2014
Publisher: Tokyo News Service
ISBN-10: 4863364164
ISBN-13: 978-4863364165
Live Concerts
[
]
[2008.08.30] Natsu☆Suta! '08 ~STARDUST section three 3-B Jr. LIVE~ at Astro Hall Shibuya, Tokyo
[2008.12.29] 3-B Jr. LIVE: Nenmatsu Da yo! Zenin Shugo at Astro Hall Shibuya, Tokyo
[2009.12.27]

3Bjunior no Machiawase wa Harajuku de!!

at Belle Epoque College of Beauty, Tokyo
[2011.01.10] 3B junior 2011 New Year LIVE: 3B junior no ZERO kara Start Mattero Sun Plaza!! at Nakano ZERO Small Hall, Nakano, Tokyo
[2012.01.08-09]

3B junior LIVE 2012: 3-Bu Nadeshiko Shichihenge

at Nakano ZERO Small Hall, Nakano, Tokyo
[2013.01.05]

Sutada Geinou 3-Bu Matsuri 2013

at STUDIO COAST, Koto, Tokyo
[2014.01.04] 3Bjunior LIVE FINAL: Ore no Fujii 2014 at Green Dome Maebashi, Gunma
[2015.01.07]

Fujii to Yome no Nanokakan Sensou

at Nakano Sun Plaza, Tokyo
Trivia
[
]
External Links
[
]
References
[
]
[

]