Creamytation Z
Kanji

クリミテーション Z

a.k.a

Creamytation (クリミテーション)

Years Active

2011

Origin

Tokyo

Member
Former Member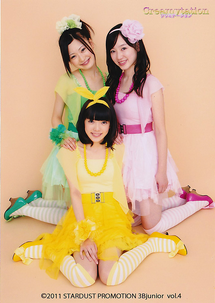 Creamytation Z (クリミテーション Z) is a limited idol girl trio represented by Stardust Promotion under Section 3's 3Bjunior. The group was performed in 3Bjunior activities in 2011. Creamytation Z is a spiritual successor of 2009's 3Bjunior group Creamy Parfait.
Group Notes
[
]
The group is originally named Creamytation, derived from the word Creamy Parfait and imitation. The three original members are Tsukina Takai, Sumire Fujishiro and Miyu Wagawa, the three were former members of Momoiro Clover. The group retained the original colors of Creamy Parfait, Sumire Fujishiro is the only original member to be featured in this group.
The group covered the original Creamy Parfait's songs.
In Summer 2011 the group was renamed as Creamytation Z as Miyu Wagawa left the group and replaced by Mika Ayano.
History
[
]
The group was originally named Momocreamy in the pamphlet announcement of the 2011 event. The group performed in the annual 3Bjunior live in the 3Bjunior 2011 New Year LIVE: 3Bjunior no ZERO Kara Start Mattero Sun Plaza!! event along with Momoiro Clover, Shiritsu Ebisu Chugaku, momonaki. Me Star and Mignon on January 10, 2011.[1][2]
The group participated in the first day of 3Bjunior Book 2011 Summer Hatsubai Kinen Event ~3Bjunior no Natsu Matsuri!~ book launching event on August 6, 2011 by the name Creamytation Z. [3] The group was popular enough to continue their activities on 2011 and ended on Momofest vol.1 on October 23, 2011.[4]
Members
[
]
Color
Name
Kanji
Date of Birth
Notes
Emerald Green
Miyu Wagawa
和川未優
December 19, 1993
Former Momoiro Clover member
Left Stardust in 2011
Trivia
[
]
They performed SKE48 song "Wimbledon e Tsureteitte at the

3Bjunior Book 2011 Summer Hatsubai Kinen Event ~3Bjunior no Natsu Matsuri!~

. This may be a possible "welcome back home" gift to commemorate Tsukina's return to Stardust from her SKE48 activities.
References
[
]
[

]