Mika Ayano
Kanji

綾乃美花

Birthdate

February 14, 1994

Birthplace

Tokyo, Japan

Bloodtype

O

Height

157 cm

Professional Status

Group
Member Color

■ Emerald Green

Occupation

Actress, Model

Years Active

2011-present

Associated Acts
Blog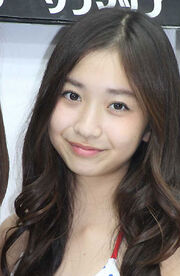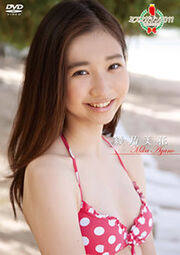 Mika Ayano (綾乃美花) is an actress and model represented by Stardust Promotion. She is a former member of Creamytation Z and a former member of Stardust Section 3's 3Bjunior. Her image color was emerald green. She was also a former member of Chocolat Nantoka?
Profile
[
]
Birth Name: Kanako Tahara (田原可南子)
Birthday: February 14, 1994
Birthplace: Tokyo, Japan
Blood Type: O
Height: 157 cm
Specialty: Kimono dressing, tea ceremony
Associated Act: Creamytation Z
Member Notes
[
]
She is the daughter of former Johnny's Entertainment singer Toshihiko Tahara.
She joined Creamytation Z in 2011 and replaced Miyu Wagawa. In 2012 she was placed in the unit [[Chocolat Nantoka? She graduated from 3Bjunior in 2012.
History
[
]
Mika joined Stardust Promotion in 2011 and joined the Miss Magazine gravure contest. On July 10, she won three awards in Semi Grandprix award, JOYSOUND award and Joypolis award.[1] On 6 August, 2011 she started idol activity with Creamytation Z.
She graduated from 3Bjunior in 2012 and continues her showbiz activity within Stardust Section 3.
Acting Careers
[
]
Movie
[
]
TV
[
]
Osakini Douzo: Kaiten Sushi-Hen (October 06, 2013). WOWOW.
Miyabe Miyuki Special Samishi Kariudo (September 09, 2013). CX Kinyo Prestige.
Gyoretsu no Dekiru Houritsu Soudanjo (September 02, 2012). NTV
Motto Atsui Zo! Nekkoke tani. (January 1, 2012). BS Asahi
Motto Atsui Zo! Nekkoke tani. (October 13, 2011). Me~TV
Kaiun Ongakudo (September 17-19, 2011). TBS
Buramayo no Seiki Wakai SHOW (September 19, 2011). NTV
CM
[
]
[2014] Hoyu: Beauty Lab
WEB
[
]
[2011] OCN Today: Kyou no Bishoujo Shashin Vol. 53
DVD
[
]
[2011] Miss Magazine 2011
Publications
[
]
[2011] 3Bjunior BOOK 2011 summer (TOKYO NEWS MOOK)
[2011] B.L.T. U-17 Vol.20 (TOKYO NEWS MOOK)
[2013] Lesson of Evil
Magazines

[2011.08.22] Young Magazine
[2011.08.29] Weekly Playboy
[2011.10.08] Young Magazine
[2011.10.12] Monthly Young Magazine
[2011.11.01] Audition
[2011.11.05] 11/5 B.L.T U-17
[2011.11.22] Weekly Shonen Magazine
[2011.12.27] Weekly Shonen Magazine
[2012.02.13] Young Magazine
[2012.03.12] Young Magazine
[2012.07.11] Monthly Young Magazine
[2012.10.10] Monthly Young Magazine
Trivia
[
]
Fellow Creamytation Z member Sumire Fujishiro was also a finalist of Miss Magazine 2011.
She shares her name, Kanako, with fellow 3BJunior member Kanako Momota
References
[
]
External Links
[
]