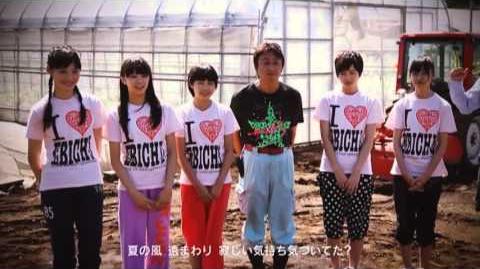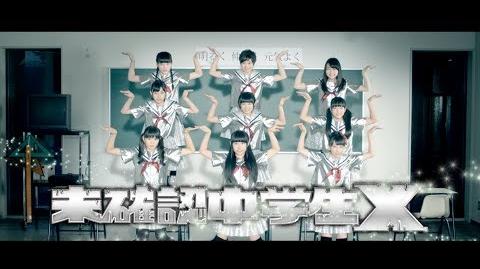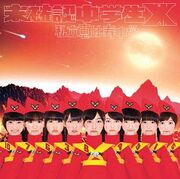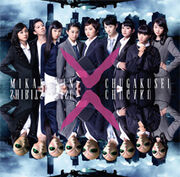 Mikakunin Chuugakusei X (未確認中学生X) is the 5th single of Shiritsu Ebisu Chugaku. It was released on November 20, 2013 under DefSTAR Records.
Details
[
]
The theme of Mikakunin Chuugakusei X revolves around a science fiction setting in outer space where a group of school staff are reimagined as aliens. They are convinced that aliens from a distant star, Ebichu was stealing their students (people). They decide to invade the Star Ebichu. These aliens trespass a school and start converting a bunch of students into mantis-like species thus possessing them. The nine members of Ebichu were present; disguised as the attacked students. The aliens attack Ebichu trying to possess them, but they failed. Then Ebichu transforms into stereotypical magical girls wearing silver school uniforms while holding weapons that resemble one of Sailor Moon's weaponry. The girls use their weapons to convert the controlled students back to normal and then threaten the aliens and the innocent staff members who failed to protect the students. In the end, the aliens were spared.
Tracklist
[
]
Type A
[
]
Mikakunin Chuugakusei X (未確認中学生X)
U.B.U.
I'm your Manager!!!
Type B
[
]
Mikakunin Chuugakusei X (未確認中学生X)
U.B.U.
Tsukatte Portfolio (使ってポートフォリオ)
Subculture Ver.
[
]
Mikakunin Chuugakusei X (未確認中学生X)
U.B.U.
Thanks! Merry Christmas K
Single Information
[
]
Mikakunin Chuugakusei X

Music and Lyric: IMAKISASA
Arrangement: APAZZI, IMAKISASA

U.B.U.

Lyrics and compasition: Takashi Ikeda sensei mannequin
Arrangement: Takashi Ikeda

I'm your Manager!!!

Lyrics: composition, arrangement: Yamada Kenichi

Thanks! Merry Christmas K

Lyrics: Junko Tsuji, Takeshi Isozaki
Music: Kōji Ueda, Takeshi Isozaki
Arrangement: Kōji Ueda, Ryōsei Kawabata
Featured Members
[
]
Mizuki
Rika Mayama
Natsu Anno
Ayaka Yasumoto
Aika Hirota
Mirei Hoshina
Hirono Suzuki
Rina Matsuno
Hinata Kashiwagi
Oricon Position
[
]
Mon
Tue
Wed
Thu
Fri
Sat
Sun
Week Rank
Sales
x
x
8  
5  
7  
9  
1
19,652  
4        
46,045
4
17  
x  
x  
x  
x  
x  
x        
x,xxx
x
x  
x  
x  
x  
x  
x  
x        
x,xxx
x
x  
x  
x  
x  
x  
x  
x        
xxx
Weekly Sales:46,045
Monthly Reported Sales:47,456
Monthly Ranking:14
Yearly Reported Sales:
Total Reported Sale:47,456
Trivia
[
]
Name announced on 9 September 2013
Limited Edition A and B come with one of 9 trading cards
Thanks! Merry Christmas K is the tie up song for Circle K Thanks
Differences between the original and Kinpachi version:
Trading cards
[
]
Limited Edition A
[
]
Limited Edition B
[
]
External Links
[
]