Mirei Hoshina
Kanji

星名美怜

Nickname

Mirei (みれい)

Birthdate

November 2, 1997

Birthplace

Kanagawa, Japan

Bloodtype

B

Height

159.6 cm

Professional Status

Group
Member Color

Pink

Student Number

7

Epithet

Full 360° Idol

Occupation

Idol

Years Active

2009-present

Associated Acts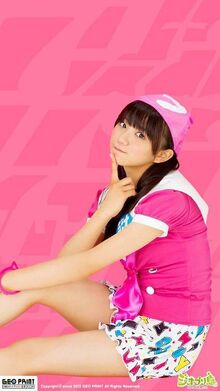 Mirei Hoshina (星名美怜) is an idol and a member of Shiritsu Ebisu Chugaku (Attendance Number #7) represented by Stardust Promotion. She is also a part of Stardust Section 3's 3Bjunior.
Profile
[
]
Nickname: Mirei (みれい), Mirei-shan (みれいしゃん)
Birth date: November 2, 1997
Birthplace: Kanagawa Prefecture
Blood type: B
Height: 159.6 cm
Hobby: Listening to music, short distance running, playing mobile games like Love Live! with Aika
Favorite brand: snidel, AZUL
Favorite idols: Kudo Haruka, AKB48, Reni Takagi
Specialty: Cheerleading
Associated Acts: Shiritsu Ebisu Chugaku (2010-present)
Attendance Number: 7
Biography
[
]
Mirei was scouted by the talent scount of Stardust Promotion in Summer 2009 in Harajuku.[1]
Mirei joined Shiritsu Ebisu Chugaku in May 22, 2010 along with Rina Matsuno and Hirono Suzuki. She was the only new member at that time that wasn't a Minitia Bears member.[2]
In 2018, February 24, Mirei accidentally slipped and fell off the stage landing on her head during rehersal. She was admitted to a hospital and fortunately her injury was not serious. She suffered swelling on her head and required long rest. As such, she missed Ebichu Christmas Dai Gakugeikai 2018 day 2 and day 3 performance.
Discography Participated In
[
]
Indie Singles
Major Singles

Te wo Tsunagou / Kindan no Karma

Natsudaze Johnny
Super Hero
Massugu
SING-A-LONG SING-A-SONG
Dekadonden

Albums

Ebichu no Zeppan Best ~Owaranai Seishun~

Chuunin

Anarchy
"Chusotsu" ~Ebichu no Ike Ike Best~
"Chukara" ~Ebichu no Waku Waku Best~
Ebicracy

Limited Albums

Ebichu no Unit Album Sun Plaza-Ban

Ebichu no Unit Album Seinenkan-Ban

Ebichu no Unit Album Saitama Super Arena-Ban

3Bjunior
Stardust Planet
Publications
[
]
Magazine
[
]
[2014.02.10] MARQUEE Vol.101 - With Yasumoto and Mayama
[2014.02.22] UTB Vol.219 - with Kobayashi and Nakayama
Photobook
[
]
[2016.11.02] MIREITOPIA[3]
Trivia
[
]
Mirei is well-known among her friends as a fashionable girl.
She is the Ebichu member who blogs the most.
In July, 2015, she cut her hair into a bob.
Since July 1, 2014, she has a cat named Moca (モカ).
She says she's often been stopped on the streets and asked if she's an E-girls member.
She's the type who can fall asleep anywhere.
She likes idols in general, but her favorite groups are Morning Musume and Momoclo. She considers herself a Kudo Haruka oshi and a Reni Takagi admirer.
Practiced the violin from the first grade of the violin from the first grade elementary school until about the fifth grade.
She likes to visit her grandparents in Yamagata.
She's an only child.
After she released her photobook "MIREITOPIA" on November 2, 2016, she is officially the first idol under Stardust Promotion to have a swimsuit photoshoot due to the obscurity of Stardust Promotion's policy regarding swimsuits or gravure on their talents.
Gallery
[
]
References
[
]
External Links
[
]
[

]