Sister Rabbits (シスターラビッツ)



Generation 1 Members

Ranran, Amuro

Generation 2 Members

Maaya, Ai, Ayuka, Momoka, Punpun,Haruka, Shimizu Mai

Generation 3 members

Yuri, Moeko, Maika, Yume, Ayaka, Miki, Shunri

Years active

1995-1997 2004-2005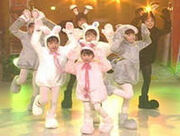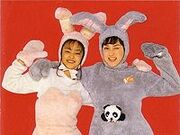 Sister Rabbits (シスターラビッツ) was a Japanese pop group for the popular Fuji TV kid's variety show Ponkikki. The group's nicknames are Sisrabi (シスラビ) and Rabbits (ラビッツ).
History
[
]
1994
[
]
formed in 1994 with Suzuki Lanlan and Amuro Namie
1995
[
]
They released their first single in 1995 called "Issun Momo Kintarou".
1997
[
]
Sister Rabbits took a hiatus when Amuro took a break from show business.
2004
[
]
The group came back from hiatus with seven new members.
All seven members graduated from the group before the year and a new set of members joined the group.
2005
[
]
The third generation of Sister Rabbits released their first album, Happy Song, in 2005.
Members
[
]
First Generation (1994 - 1997)
[
]
Ranran (蘭々) - Gray
Amuro (アムロ) - Pink
Second Generation (2004)
[
]
Maaya (マアヤ) (Was member of Power Age) - Black/White
Ai (アイ) - Black
Ayuka (アユカ) - Gray
Momoka (モモカ) (Was member of Power Age and former member of Momoiro Clover Z) - Gray
Punpun (ブンブン) - White/Pink
Haruka (ハルカ) - White
Shimizu Mai (マイ) - Pink
Third Generation (2005)
[
]
Yuri (ユリ) - Pink
Moeko (モエコ) - Black/White
Maika (マイカ) - Black/Pink
Yume (ユメ) - Gray
Ayaka (アヤカ) - Gray/White
Miki (ミキ) - Gray/Yellow
Shunri (シュンリ) - Yellow/Brown
Discography
[
]
Albums
[
]
Singles
[
]
Filmography
[
]
Television
[
]
Ponkikki
CM
[
]
[2005] Del Prado "Enjoy elementary school English" (Maaya, Ai, Ayuka, Momoka, Haruka)
DVD
[
]
[2006.01.25] DANCE de RABBITS Vol.1
[2006.01.25] DANCE de RABBITS Vol.2
[2006.01.25] DANCE de RABBITS Vol.3
[2006.01.25] DANCE de RABBITS Vol.4
Trivia
[
]
External Links
[
]