Fujishiro Sumire (藤白 すみれ)



Nickname

No information

Origin

Chiba, Japan

Born

May 8, 1994 (1994-05-08) (age 25)

Occupation

Actress

Groups

Momoiro Clover Z; 2008

Creamy Parfait: 2008-2009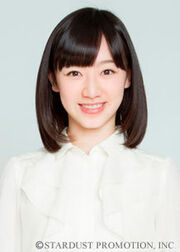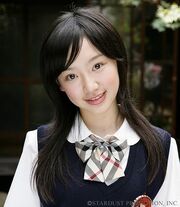 Sumire Fujishiro (藤白すみれ) is an actress, model and former idol represented by Stardust Promotion. She is a former member of Momoiro Clover. She is also a former member of Stardust Section 3's 3Bjunior, Creamy Parfait, Creamytation, Creamytation Z and Sanbu JAPAN.
Name:Fujishiro Sumire 藤白すみれ (ふじしろ すみれ)
Profession: Actress
Birthdate: May 8, 1994
Birthplace: Chiba, Japan
Star sign: Taurus
Blood type: O
Hobbies: Ballet, Dance and Music Ocarina
Talent agency: Stardust Promotion
Joined and left Momoiro Clover before debut to join Creamy Parfait.
Activities in Creamy Parfait went into Hiatis.
March; Number 16 in the Miss Magazine out of 16.
TBA
TBA
September, there was a twitter account that people thought was Fuijishiro Sumire's but turned out not to be hers. This situation got to the point where their was a message written on her Stardust profile page
Singles participated
Edit
[2009/08/14]: Angel Magic (エンジェル☆マジック)
[2009.08.04]: Lips (くちびる)
Koisuru otomegokoro (恋するオトメゴコ口)
Dakishimete jerashī (抱きしめてジェラシー)
Filmography
Edit
[2012] Dark gold Ushijima-kun
[2012] Jōkāgēmu
[2012] Sūpukarē
[2013] 35-year-old high school student (April-June)
[2013.08.17] Ogata sadako monogatari
Advertising
Edit
[2009] Nintendo DS
[2009] Coca cola
[2010] Menicon Merusupuran
[2011] Au KDDI
[2013] Korugen IB tablets TX
[????] Kowa
[2010] Chīsana mahō ( Little Magi) ~ (Stereopony)
[2011] Hana Uta" (花唄 Flower Song) ~(GReeeeN)
[2011] OCN journal
[2011] Uniform Fashion Pose Collection (Cosmic Co. publication)
[March] Young Magazine No.17
[April] Monthly Audition
[June] Monthly Audition

[August] month BLT special editing "3Bjunior BOOK 2011 SUMMER"
[August] CMNOW vol.152
[September] CM Girls vol.4
[September] November Monthly Entertainment
[September] Sony Magazines "Dejimono station separate digital camera mook book"
[October] BLT

She is the only pre single debut former Momoiro Clover member that still became a talent under Stardust Promotion.
Has a pet dog
External Links
Edit