Takoyaki Rainbow (たこやきレインボー, abbreviated  Takoniji (たこ虹) and sometimes styled as Tacoyaki Rainbow) is a five member idol girl group represented by Stardust Promotion under section 3's 3Bjunior. The group was formed in 2012 and is based in Kansai.
Group Notes
[
]
Maido! Ookini! We are Takoyaki Rainbow! (まいど!おおきに!たこやきレインボー )
History
[
]
2012-2013: Debut and First Single
[
]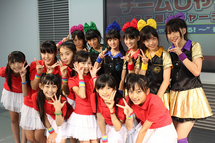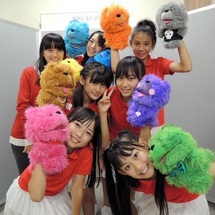 The group was first announced on Mai Haruna's blog on September 10, 2012[6] and first debuted on September 17, 2012 in the second day of Team Syachihoko Osaka tour in LABI1 Namba Department store.[7] The group consisted of Yuka Koike (Orange), Towa Narasaki (red), Kurumi Hori (purple), Karen Negishi (Green), Sakura Ayaki (pink) Mai Haruna (blue), Maria Arai (yellow).[8] The group is a join project between Stardust Promotion and Aero Space entertainment company, a Stardust's affiliation in Osaka. Yuka, Kurumi, Karen, Sakura and Maria were originally belonged to Aero Space.
In their second live event in Abeno Cues Mall Osaka On October 21, 2013, Saki Kiyoi joined the group to replaced Maria. Maria's withdrawal was announced by Section 3's president Ryoji Fujishita.[9].
On February 23, 2013, they held their first solo event in LABI1 Namba Departement Store titled ~Maido! Takoyaki Rainbow Desu~ no Maki, Yuka was announced to withdraw from the group in this event. The member lineup was Towa, Kurumi, Karen, Mai, Sakura, and Saki, this member formation stayed until 2014.
On May 25, 2013, they announced their blog opening and single debut in the Tower Records NU Chayamachi event. Their fan club was formed under the name Niji Kazoku in the LABI1 Namba event on June 16. On July 7 in the Nishinomiya Gardens Tanabata event they declared their goal to perform in Koshien Stadium.
In their first anniversary on September 17, 2013 they released their first indie single Over the Takoyaki Rainbow, the single debuted in #31 in Oricon Weekly Ranking. Shortly after that on November 9 in Grand Front Osaka Knowledge Teather they announced their second single, Naniwa no Haniwa in collaboration with Kenichi Maeyamada, the music producer of several Momoiro Clover Z and Shiritsu Ebisu Chugaku's singles and is also a Kansai born musician.[10]
On November 29, 2013 it was announced that Takoyaki Rainbow was going to perform in 3Bjunior's annual live event 3Bjunior Live FINAL: Ore no Fujii and participated in their single Nanairo no Stardust.[11]
2014: Live Tour and Towa Graduation
[
]
The tour to promote their second single was announced on January 26, 2014 in Granf Gront Osaka, titled Naniwa no Haniwa Rainbow Tour, starting from February 23 in five venues across Kansai Region.[12]. Their second single Naniwa no Haniwa was released on March 19, 2014, the single debuted in #10 on Oricon Weekly Ranking.
On March 16, 2014, their leader Towa Narasaki announced her graduation because of her academic priority. The graduation took place in their free live event at Osaka Nanko ATC Seaside Stage on June 8, 2014. Kurumi Hori was appointed as the new leader and the 3rd single Zesshou! Naniwa de Umareta Shoujo-Tachi was announced.[13]
Their first TV variety with comedian Muga Tsukaji, Mezase Koshien! Tsuka Tako Rainbow Road was broadcasted in Kansai TV on May 28, 2014, the variety show took place in Hyogo Himeji Central Park zoo.[14].
The 3rd single Zesshou! Naniwa de Umareta Shoujo-Tachi was released on September 3, 2014. They held their first One-Man live concert on September 28, 2014 in Osaka Umeda CLUB QUATTRO titled Takoyaki Rainbow First One Man Live "Hajime no Ippo". The concert is declared as the first step to their performance in Koshien Stadium. They also announced to perform in Tokyo Nippon Seinenkan.[15]
2015: 4th Single and Rainbow Tour
[
]
It was announced Takoniji would go on an eight-day "Rainbow Tour" from  March 20th to March 28th to promote their new single, "Genki Uri no Shoujo ~Namihana Meiuta Gojuu Sen~". It was announced their single would be released May 20, and it is also their first nationwide single. It will also receive a Music Video. On the tour, Sakura's birthday will also be celebrated.
2016: Major Debut Announcement
[
]
On January 9, 2016 during "Ore no Fujii 2016: Tynamite" event, It was announced that Tacoyaki Rainbow will be making a major debut under Avex.[16] This is the first time Stardust Idol has debuted under that label.
2021: Disbandment
[
]
It was announced in April that the group would disband on May 9th 2021 and that they will start a new project after a recharging period.[17]
Members
[
]
Color
Name
Kanji
Date of Birth
Epithet
Notes
Purple
Kurumi Hori
堀くるみ
December 18, 1999
Awatenbo Danjri Girl

(Airhead Danjiri Girl)

Leader
Pink
Sakura Ayaki
彩木咲良
March 26, 2002
Sakiretsu
(lit. Cracked Laugh)
Youngest
Yellow
Saki Kiyoi
清井咲希
August 5, 1999
Hello! Sakitty Konnichiwa~♪
Oldest
Green
Karen Negishi
根岸可蓮
November 18, 2000
Doki Doki (Heart pounding)
Shortest
Blue
Mai Haruna
春名真依
January 5, 2001
Min'na no kobun

(Everyone's Henchman)

Tallest
Former Members
[
]
Color
Name
Kanji
Date of Birth
Epithet
Notes
Red
Towa Narasaki
奈良崎とわ
February 1, 2000
Shaolin Girl from Naniwa
Former leader
Orange
Yuka Koike
小池優花
December 31, 1998
-
-
Yellow
Maria Arai
新井まりあ
July 21, 2000
-
Left Stardust
in 2012
Discography
[
]
Singles (Indie)
Singles (Major)

[2016.04.13]

Nanairo Dance

[2016.08.24]

Dot jp Japaan!

(どっとjpジャパーン!)
[2017.05.10] RAINBOW ~Watashi wa Watashi Yanen kara~ (RAINBOW~私は私やねんから~)
[2017.09.20] Money!! Money!? Money!! (まねー!!マネー!?Money!!)
[2019.10.23] Motto Motto Motto Hanasou Yo - Digital Native Generation (もっともっともっと話そうよ-Digital Native Generation-)
[2020.07.28] Koi no Dungeon UME (恋のダンジョンUME)

Limited Releases
Albums

[2016.12.21]

Maido! Ookini!

(まいど!おおきに!)
[2018.02.21] Double Rainbow
[2019.02.27] Nantaiteki na Voyage (軟体的なボヤージュ)
Works
[
]
TV Commercials

[2014] Takoyaki Rainbow×Buden Shoten
[2014] LOTTE ACUO CM
Subunits and soloists
[
]
The group has unofficial subunits and a soloist that debuted in their Club QUATTRO One Man Live. They are:
It is unknown whether these units will continue as official units.
Trivia
[
]
The average age of the members when the group first debuted was 13.8
The group's name follows the aquatic animal theme in 3Bjunior's group, after Ebi (shrimp) and Syachi (killer whale).
References
[
]
External Links
[
]
[

]