Yukina Kashiwa
Kanji

柏幸奈

Nickname

Yukkina (ゆっきーな)

Birthdate

August 12, 1994

Birthplace

Aichi, Japan

Bloodtype

B

Height

158 cm

Professional Status

Group

Momoiro Clover (2008-2009)

Occupation

Idol

Years Active

2008-2009, 2011-2013

Associated Acts

3Bjunior, Nogizaka46

Genre

Pop
Yukina Kashiwa (柏幸奈) is a former idol and a former member of Momoiro Clover. She is also a former member of Nogizaka46 and Section 3's 3Bjunior.
She left Momoiro Clover and Stardust Promotion on March 9, 2009.
Profile
[
]
Nickname: Yukkiina
Birth date: August 12, 1994
Birthplace: Kanagawa, Japan
Blood type: B
Height: 158 cm
Hobby: Piano, pastry making, drawing 4-panel manga, making beads accessories, watching comedy
Specialty: Dance, reading, rope skipping, athletics, high jump, vault, english skill
Associated Acts: Momoiro Clover (2008-2009), Nogizaka46 (2011-2013)
Member Notes
[
]
Biography
[
]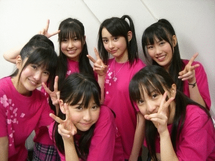 Yukina is a former child actress and had been played in many Tokusatsu Dramas in the past. In 2007, she got her first break as the lead character Negi Springfield in Negima! live action drama.
Yukina was announced as the new member alongside Akari Hayami and Ayaka Sasaki in the Iidabashi Ramla live concert on November 23, 2008. They first appeared with wrestling masks until they were revealed as new members in the middle of the show.[1] She left the group and Stardust Promotion on March 9, 2009, two months prior their debut announcement, for undisclosed reasons. She, however, appeared in the quick slideshow in the beginning of Momoiro Punch music video and had her voice recorded in the song.
On August 21, 2011 she was chosen as a first-generation member of Nogizaka46. She graduated from Nogizaka46 on November 17, 2013 along with Seira Miyazawa because of academic priorities.[3]
Discography Participated in
[
]
As Momoiro Clover member
As Nogizaka46 member
Acting Careers
[
]
Movies
[
]
TV
[
]
CM
[
]
[2004] Tiger - Denki dai Tokuko-san
[2005] Universal - Universal Home
[2006] Bandai - Pretty Cure Splash Star Excellent Series Splash Commune
[2007] Asahi Kasei Constructions - Neoma Form Kenchiku Genba ver.
[2007] Asahi Kasei Constructions - Neoma Form Wagaya no Jiman ver.
[2008] All Nippon Airways co. - All Nippon Airways
Trivia
[
]
Gallery
[
]
References
[
]
External Links
[
]
[

]